ISSUE #2
MARCH 2017
IN THIS EDITION
MY LIFE @FASoS
8 REASONS
AMBASSADORS TALK
AMBASSADORS TALK 2
EXPLORING FASoS
LIFE AFTER FASoS
LIFE IN MAASTRICHT
AMBASSADORS
GETTING READY FOR FASoS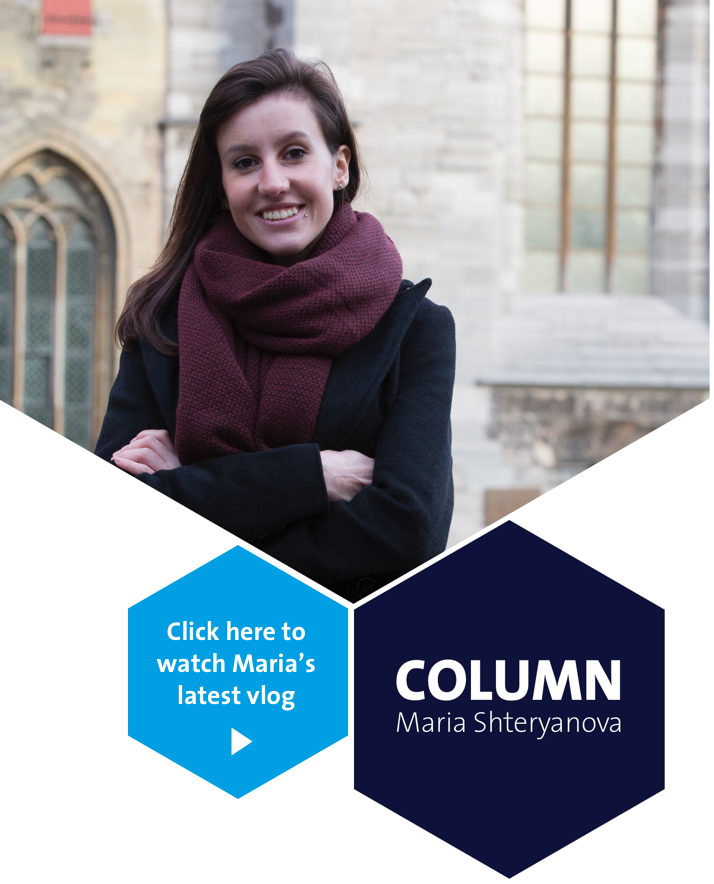 MY LIFE @FASoS
The anxiety of choosing a master's programme heightens when you start thinking about what you could do with the degree you acquire. When I started to research the various career opportunities after I finish my master in European Studies, I must admit that I became even more worried about what would await me after university. Do I go into policy-making, turn to the communications field, apply for internships or go straight for junior positions? Should I restrict myself to Brussels? What about a career in academia? These are just a snapshot of the questions that raced through my mind and terrified me.
However, after going on a field trip to Brussels a couple of weeks ago as part of the programme, I was relieved of my career prospects' anxiety. The alumni we got the chance to meet with represented a colourful and wide variety of fields, from research institutes and communications representatives to NATO employees. And while they had different backgrounds and provided different insights on how to start a career after completing your master - some began with internships to gain extra knowledge in the field they wanted to specialise in, others took up entry-level positions - they all gave one common advice, and that was to push as much and as hard as you can for what you aspire to become and not to get discouraged by the first hurdle you encounter. 
This advice will certainly serve as my personal guiding map to approaching the future. When I am applying for the next internship or entry-level position, I will not be the slightest discouraged by whatever setbacks, because the knowledge, experience and confidence that I have built throughout this year are my key to success.
8 REASONS
It's great to be a fervent art lover, enthused debater or bookworm, but what about your career perspectives? In what way does the Faculty prepare you for the challenges of the labour market?
Emilie Sitzia, associate professor at the Department of Literature & Art and the programme director of the Master Arts and Heritage, explains: "The overarching theme of our programme is that we deliver reflective practitioners, i.e. good academics that can apply professional skills and professionals that can think academically about their practice. To that end, the academic content in the first semester has been integrated with a complete professional track in policy, marketing and management. In the second semester, students either go on an internship or choose an elective. Our internships are thesis-related and are in high demand, which is not surprising because students can choose between over 250 museums, galleries, institutions etc. from every continent in the world, including some very famous ones like Sotheby's, UNESCO or Guggenheim Museum. The elective programme is now being merged into three tracks, Art & Audiences, Culture & Economics and Heritage & Society. This makes for clearer profiles, which helps students picture themselves in a particular job and helps manage expectations of future employers."
The European Public Affairs master's programme, where Karolina Pomorska – an alumna herself – is an assistant professor and the programme director, is by all means practice-oriented. "We pay a lot of attention to practical skills like lobby pitches and presentations. In fact, we have quite a reputation to uphold in 'Brussels' for our graduates' aptitude in this area. The link to the labour market is deeply ingrained in our academic content, partly due to our cooperation with the European Institute of Public Administration (EIPA). Furthermore, many of our guest lecturers are practitioners like officials from European institutions, lobbyists or spokespersons who give our students valuable insights into possible career paths and what to expect. Each year we go on a 3-day trip to Brussels where we have a full programme with our alumni and various high-placed officials and entrepreneurs. This has also led to two interesting new initiatives which we will kick off before the summer. The first is a 'Lobby Clinic' at our university campus in Brussels for current students and alumni and the second is a series of 'Meet a Lobbyist', also in Brussels, focussing on important current themes. I'm proud to say that the employment rate of our students is very high."
AMBASSADORS TALK
What is CAST?
As a student of the Research Master Cultures of Arts, Sciences, and Technology (CAST), I have been asking myself what CAST is from day 1 onwards. Concretely, this MSc prepares young researchers to participate in and contribute to the world of academic research. We learn research methods (e.g. archival research, discourse analysis and ethnographic observation), norms (e.g. how to participate at academic conferences), and theories (too many to count!) while creating a substantial body of our own work.
But you may be asking: Art? Science? Technology? So many things, how do they all relate? That exact confusion is the motivating drive of the CAST programme. The content of this course incorporates material from the history of science, science and technology studies, art history, philosophy, and sociology while always sitting at the interdisciplinary crossroads. It is the central thesis of the CAST programme that we can come to new understandings of these three constituent parts of society by focusing on their collisions. Some example collisions include: the cultural critique of science within the arts, the incorporation of new technologies in artistic practices, and the use of science and the arts to 'imagine' our culture's future.
However, those are really just the tip of the iceberg. As CAST students, we develop specific and highly detailed research interests. I'm currently analysing the political efficacy of projects that use music and data sonification to disseminate affect-laden understandings of climate change. My colleagues work on the societal impact of driverless cars, the ethical questions of prenatal human enhancement, and (post)gender performance among contemporary Chinese digital artists. We move forward through CAST together by sharing ideas, critiques, and camaraderie.
If the thought of doing this type of research excites you, join us! There is so much to discover.
Grant
AMBASSADORS TALK
Research Master European Studies
In the Research Master European Studies you can choose between specialising in Historicising the EU, Governance and Representation in the EU or the Relationship between the EU and the world. You also have to decide whether you want to use qualitative or quantitative research methods. A speciality of the programme is that the RMES prepares for an academic career, but also for work in the area of policy-making or think tanks. More generally speaking, a key aim is to become an independent and good researcher. It's a two-year programme, which means that you have enough time for your Master Thesis (and more time to think about the future and what you want to do afterwards…).
In the second year, you can either do an internship, choose an exchange programme or opt for a Double Degree at the University of Cologne.

Personally, I have chosen this study programme because I am interested in the regulatory governance of the EU and theoretical concepts of European Integration and theories of political science in general. Looking back on the first six months of my Master, I must admit that it's a tough programme – but not impossible. If you are still unsure about applying, write a paper as a test (you have to do it anyway for the application). Ask yourself: Do I enjoy this? Can I motivate myself to read a lot and write about it in a short period of time? If the answer is yes, you will definitely enjoy this programme.

Johanna
LIFE IN MAASTRICHT
Studying in Maastricht means living in or nearby Maastricht. So, in every issue, we will guide you through the city and tell you all about nice places in town, upcoming events and other things you definitely should not miss when you're in Maastricht.